Stege Church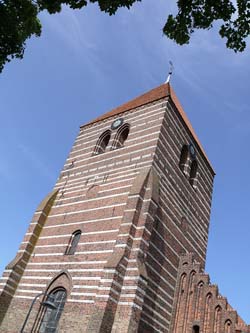 The church was build in the first half of the 13th century.
Inside the church you will find the funeral chapel of the families Moltke and Hage.
On the northside you will find the sacristy from about the years 1907-09 whe the rest of the church was restaurated.
The present altartable is also from the years 1907-09 which replaced the old altarpiece, an Oilpainting from the 18th century. This painting is now hanging on the choirs north wall.
The baptismal font from about 1625 is made of sandstone and painted gray and white. Three chalkstone relief's are inserted on the sides.
The pulpit on the naves northside is from about the year 1630 and contains in its frames relief's of the life of Christ.
The church ship "Justitia" was given to the church in 1718 by the sailor Hans Larsen, and has an age of 280 years. Every ten years the ship is taken down and gets a new coat of paint and all the sails and ropes are checked.