Damsholte Church
The small church in Damsholte was consecrated the 22nd of May 1743.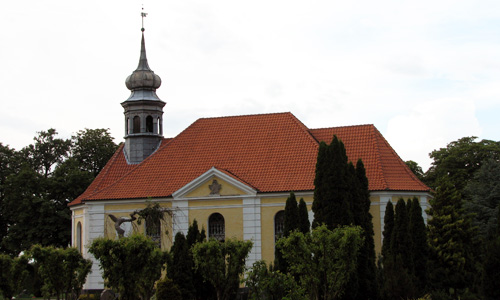 The money to the building of the church was raised by the King of Denmark which contributed with 3000 rix-dollars. The other churches of Møn gave a total of 2000 rix-dollar and all of the other churches in Denmark contributed with 1 rix-dollar each.
Around the year 1800 the owner of the church and Marienborg, the family la Calmette, added a mortuary chapel to the northside of the church.
It was in Damsholte church my daughter Ellen was baptised 23/5-2000, and the little new one (arriving in May 2003) will probably also be baptised here. Some of my ancestors has been buried in the graveyard surrounding the church. Most resently both my grandmother and my grandfather on my mothers side, but also my greatgrandfather and greatgrandmother on my fathers side are buried here, though their grave has been cancelled recently, but their gravestone can still be seen at the graveyard.